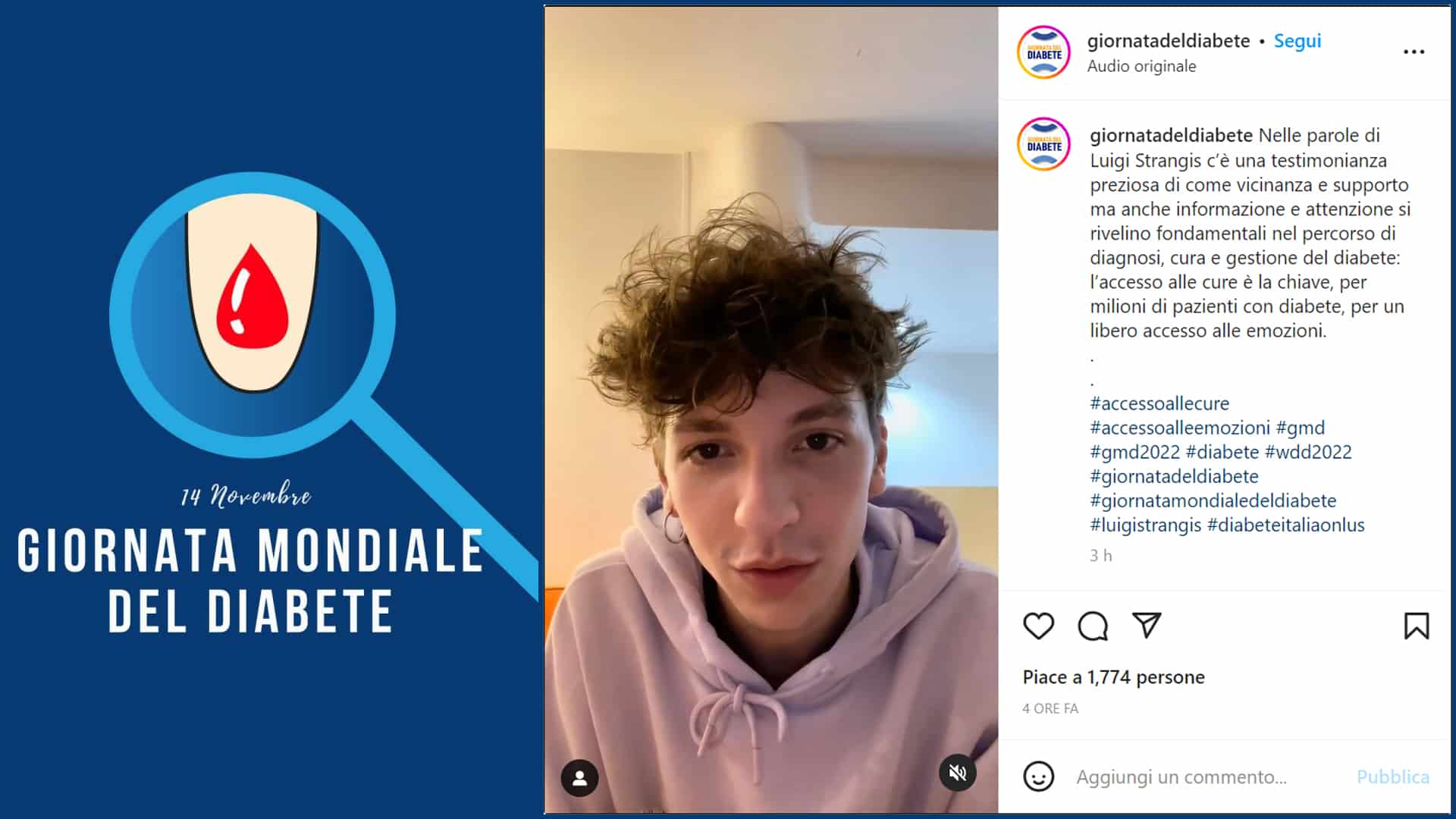 Luigi Strangis is a young Italian singer and songwriter. For Diabetes Day 2022, he decided to speak about his life experiences with diabetes.
He shared them while he was a contestant in the talent show "Amici".
Today, he posted his testimony on Instagram, stating how important the support of friends and family members has been for him, but also how important it is to get informed in order to step on a path of diagnosis, treatment and managment of diabetes.
"For millions of patients, the accessibility to care is the key, as it is an access to feelings".
Luigi Strangis' video for Diabetes Day 2022 became immediately viral.
"At first I was disoriented and felt like something was changing in my life. Luckily I had a great diabetologist with me who was able to give me all kind of good advices.
And then, I was smart enough to follow her advices, which usually isn't that obvious.
For me, it was fundamental to have my family by my side, along with many friends who kept asking me questions.
Maybe I felt a little bit too "followed", but in my heart I think it's right to talk about it with those who don't know the situation, especially with people who are next to you, since they can help you and let others understand how you feel.
I thought I couldn't even manage to get a siringe shot in my stomach. But I realized that it was actually much simpler than I thought and I kept going ahead, I became much more independent. At first, it was the opposite.
5 years later I do wathever I want, I live my life with no problems. Basically, I do what everyone should do: I play sports, follow a good diet and have an healthy lifestyle.
Keep yourselves informed because it's really important."
NefroCenter in 7 Campania squares for Diabetes Day
NefroCenter practices and promotes the treatment and prevention of diabetes and its complications.
For the World Diabetes Day 2022, our group was engaged in 7 Campania Region's squares for blood sugar tests and free nephrological examinations, recording record numbers.