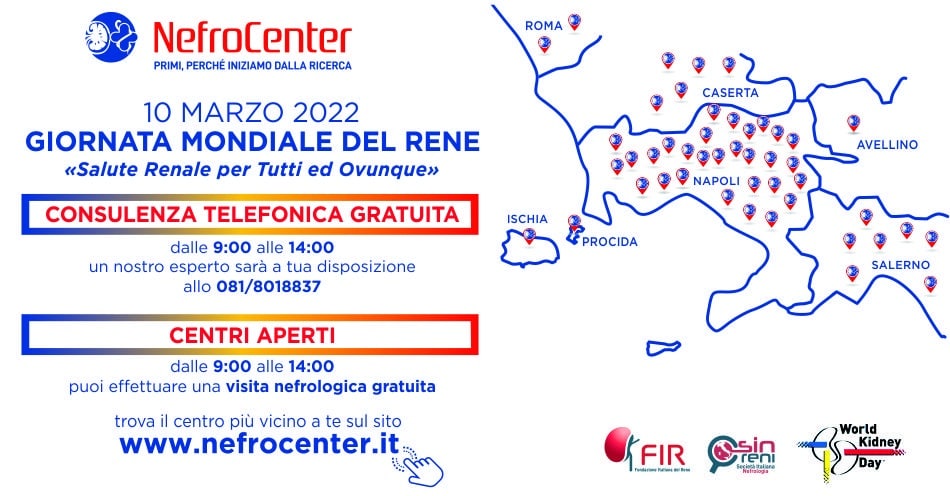 Nefrocenter Group will take part at the World Kidney Day on March 10th, 2022.
All Nefrocenter facilities will stay open to perform free screenings and free consultations with nephrologists.
The website www.nefrocenter.it will direct the people to the center closest to their place of residence.
The Nefrocenter group is present in Campania with 22 centers and over 1,000 patients under treatment.
Furthermore, for those who wouldn't be able to travel, Nefrocenter has hired a specialist to answer questions from people who want to learn more about kidney diseases.
The free telephone consultation with one of the Group's nephrologists can be done by calling at any time between 9am to 2pm, on 0818018837.
Furthermore, on March 10th, from 4pm to 5pm it will be possible to connect Live on Nefrocenter Group's Facebook and Instagram pages to speak live with nephrology specialists and ask them all the questions about kidney health.
It will be a day entirely dedicated to people who want to know more about kidney diseases and its functions.
The catchphrase chosen for World Kidney Day, which every year aims to raise people's awareness of prevention, is: "Kidney Health for Everyone and Everywhere". The catchphrase shows the worldwide efforts to ensure kidney health, which is essential for the proper functioning of the body.
According to estimates by the SIN (Società Italiana Nefrologia: Italian Nephrology Society), chronic kidney disease affects 10% of the population. As stated by experts that took part at this year's press conference, which was held to announce the initiatives, by 2040 kidney diseases will become the fifth cause of death in the world.
Monuments located in Padua, Livorno, Turin, and Pisa will be illuminated to make people aware of this phenomenon, which the constantly growing nature is also due to the aging of the population.
Nefrocenter will make all its centers available for free screenings and free telephone and online consultancies with nephrologists in order to contribute once again with its consistent support to prevention.