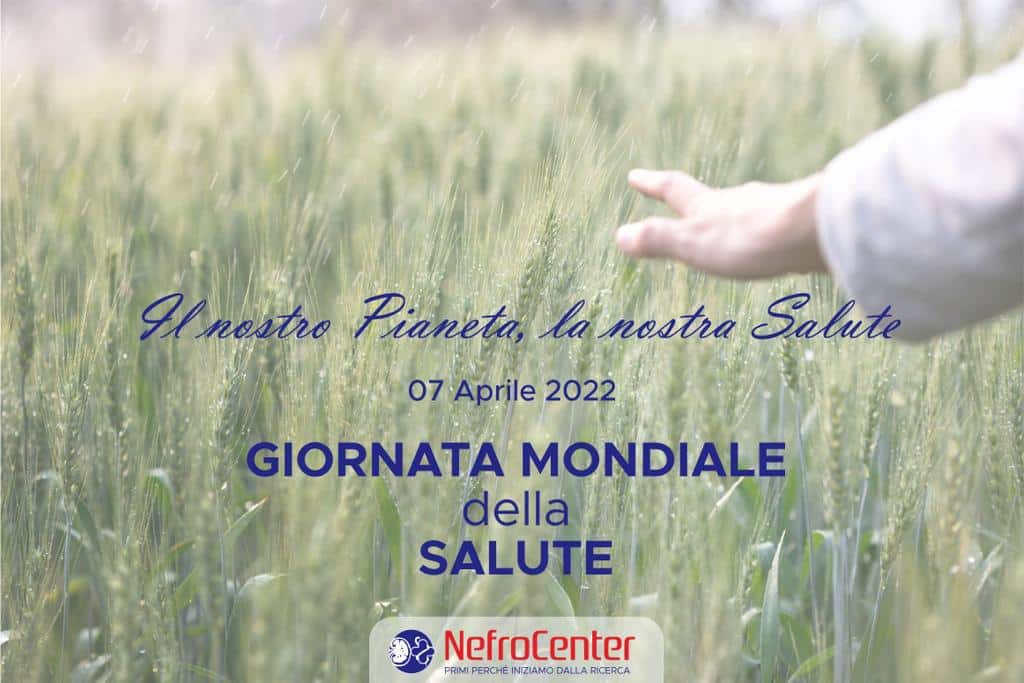 Today is the World Health Day. Nefrocenter Group has always considered health a priority, and it has chosen a top-level healthcare staff and a cutting-edge equipment for his centers.
Furthermore, Nefrocenter opens its doors to give the possibility to undergo complete check-ups, because prevention is our main weapon.
This year, for World Health Day 2022, the World Health Organization chose the theme: "Our Planet, Our Health".
April 7th is an important date for raising awareness of the spreading of the diseases that worsen our quality of life and that can put our lives at risk or even be fatal.
In recent years, the pollution of the Earth has led to an increase in cases of cancer, asthma, and heart disease.
The WHO wrote in its report: "In the midst of a pandemic, with a polluted planet, an increase in diseases such as cancer, asthma and heart disease, on World Health Day 2022 we will focus the global attention on urgent and necessary actions to keep humans and our planet healthy, and foster a movement to create a society centered on well-being."
Avoidable environmental causes, according to the WHO, have caused over 13 million deaths worldwide. The World Health Organization reiterates: "Over 90% of people breathe unhealthy air resulted from the burning of fossil fuels.
Our constantly warming world is seeing mosquitoes spreading diseases farther from their places of origin and faster than before. Extreme weather events, land degradation and water shortages are displacing people and compromising their health.
Pollution and plastics are both found at the deepest bottom of our ocean and up on the highest mountains, and they've made their way up to our food chain.
Systems that produce highly processed and unhealthy food and drinks are the force behind the diffusion of obesity and the increase of cancer and heart diseases, and they generate a third of global greenhouse gas emissions."
9 main aspects to focus on have ben set to help improve human beings' health. It's basically a manifesto that Nefrocenter Group fully shares and which we report in detail:
1 – Climate change is the biggest threat to human health. The impacts of climate change are already damaging health through air pollution, diseases, extreme weather events, forced displacements, food insecurity and mental health pressures. About 13 million people die every year due to environmental factors, and every minute 13 people die from cancer, heart attack and other heart diseases caused by air pollution.
2 – Achieving the Paris Agreement goals could save an estimated one million lives annually worldwide by 2050 by air pollution reduction alone. Avoiding the worst-case scenarios, climate impacts could help prevent an additional 250,000 climate-related deaths per year from 2030 to 2050, mainly those caused by malnutrition, malaria, diarrhea, and heat stress.
3 – The value of health gains resulted from reducing carbon emissions would be approximately double the overall cost of implementing carbon mitigation measures.
4 – More than 90 percent of people breathe unhealthy levels of air pollution, much of it resulting from the burning of fossil fuels which drive the climate change. In 2018, air pollution from fossil fuels caused $2.9 trillion in health and economic costs, about $8 billion a day.
5 – Transportation produces about 20% of global carbon emissions. Alternatives like walking and cycling are not only environmentally friendly, but they also offer greater health benefits, such as reducing the risk of many chronic health conditions and improving mental health.
6 – Systems for producing, packaging, and distributing food generate a third of greenhouse gas emissions. A more sustainable production system would mitigate climate impacts. Supporting more nutritious diets could prevent nearly 11 million premature deaths in one year.
7 – Health systems are the main defense element for populations facing emerging health threats, including those from climate change. To protect health and avoid widening health inequalities, countries need to build climate-resilient health systems.
8 – Most countries identify health as a priority field vulnerable to climate change. But there's still a huge financial gap. Less than 2% of multilateral climate finance goes to health projects.
9 – Healthy societies rely on well-functioning ecosystems to provide clean air, fresh water, medicines, and food security. These things help limiting the diseases and stabilize the climate. But biodiversity loss is happening at an unprecedented rate, impacting human health around the world, and increasing the risk of emerging infectious diseases.